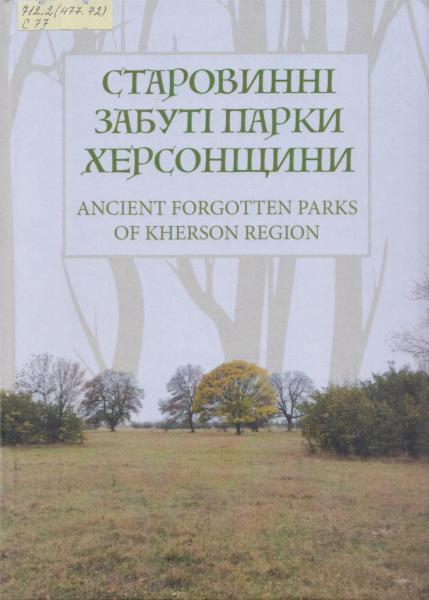 Старовинні забуті парки Херсонщини
712.2(477.72)

С 77
Старовинні забуті парки Херсонщини
= Ancient Forgotten Parks of Kherson Region/ О. Є. Ходосовцев, І.І. Мойсієнко, М.Ф. Бойко, Б. Кунц; Міністерство освіти і науки України - Херсон : Гельветика, 2019. - Dedicated to Baron Eduard Alexander von Falz-Fein (14 September 1912 - 17 November 2018). - Бібліогр.: с. 293-297. - 297, [2] с.,
ISBN
978-966-916-751-4
Місце зберігання:
??? (3)
Предметні рубрики:
Дендропарки українські -- Історія -- Південна Україна -- Херсонська область (Україна) -- 18-20 ст. -- Ілюстровані видання
УДК:
712.253(477.72)"17/19"
Аннотация библиотекаря:
У книзі йдеться про історію та сучасність старовинних парків, створених у XVIII-XX століттях німецькими, французькими, українськими, російськими поселенцями у безкрайніх Причорноморських степах і які залишилися до наших часів. Вперше показано видовий склад флори стародавніх парків та лісопарків Херсонщини, розташованих у Бехтерах, Преображенні, Старій Збур'ївці, Новочорномор'ї, Олексіївці, Хорлах, Роздольному, Чкаловому, Новоолександрівці, Нововоронцовці, Садовому, Херсоні, Архангельському лісі, Іванівському лісі, Олешківському сосновому борі, Реймерському лісі. Значна увага приділена історії деяких вікових та меморіальних дерев Херсонщини.